An Entirely New Category of Beauty Medicine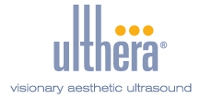 Ultrasound has been used medically for 50 years. It's been used in physical therapy and in sonograms on pregnant women. Now the technology safe enough to see babies in the womb can be used to baby your skin! Ulthera, the creators of Ultherapy®, are working on many other applications besides the present use for skin tightening, so stay tuned.
How does Ultherapy® work?
Ultherapy® focuses sound waves to create heat energy at prescribed depths of the skin, even as deep as about 3-4mm. This strengthens your skin's foundation by boosting the amount of collagen created. The sound waves from the smooth applicator radiate harmlessly through the surface skin, only affecting the collagen-producing layers. The collagen level of your skin is heated to about the temperature of a warm cup of tea, but that's enough to immediately begin skin regeneration. The skin's collagen building will occur slowly and naturally over 60-90 days. You'll have to wait on your body's natural regeneration response and each person's body controls the speed and amount of response. The bright side is that there are no extremes in your skin's change. It will naturally firm, tighten, and lift and no one need know how or why! Dr. Mudd likes to use her Ultherapy® device to treat both the deep and superficial collagen layers within a single treatment.
If you are interested in learning more about what Ultherapy® can do for you, call 614-888-6833 today to schedule an appointment.