BOTOX® works in two ways –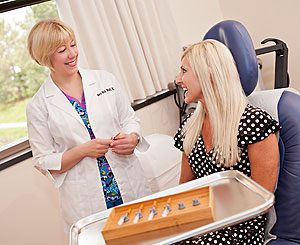 Applied earlier in life, BOTOX® can prevent wrinkles from ever appearing.
If you are old enough to have wrinkles, BOTOX® can remove wrinkles you've developed over time. BOTOX® can be combined with other therapies, if necessary, to dramatically reduce or even eliminate those unwanted wrinkles.
Keep your expression—just lose the wrinkles!
Works by gently relaxing over-developed wrinkle-creating muscles to keep them from creasing the skin.
Lose as many wrinkles as you want — one or several — that detract from your overall look.
Great first step toward preventing or removing wrinkles.
Dr. Mudd has advanced training acquired by studying with the foremost physicians who apply BOTOX® in North America.
Dr. Mudd's expert training allows her to apply BOTOX® across the face and neck–not just the forehead.
If you are interested in learning more about what BOTOX® Cosmetic can do for you, call 614-888-6833 today to schedule an appointment.