Microdermabrasion/Chemical Facial Peel
The Therapy Extenders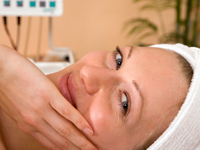 Although microdermabrasion and chemical peels have been replaced as primary therapies by newer and more effective procedures, they are still very useful for maintaining your skin's texture and tone between visits, or as preliminary skin preparation for more advanced treatments. In many ways, microdermabrasion and chemical peels are even more important in their maintenance role, because it is precisely these "in between" times that we tend to let our skin care lapse. Both of these procedures can extend the effect of your primary therapy.
Chemical peels are great for people whose skin shows premature aging due to sun exposure, fine lines, brown marks, and sun related dry spots. Chemical peels can also stabilize oily or acne prone skin and can be part of an anti-acne program along with the use of our simple acne skin care program.
Microdermabrasion provides gentle but deeper exfoliating than can be obtained from any over-the-counter products, resulting in softer, more even looking skin tone and texture. Both microdermabrasion and chemical peels are great for busy people who want no downtime, immediate results, and are interested in good long-term skin maintenance.
If you are interested in learning more about what Microdermabrasion and Glycolic Facial Peel can do for you, call 614-888-6833 today to schedule an appointment.
Microdermabrasion / Chemical Facial Peel FAQs