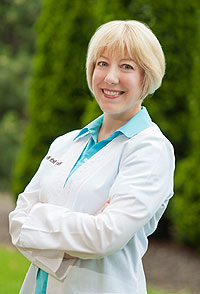 Dr. Mary Beth Mudd, founder of the New You Center for Advanced Medical Aesthetics, is a graduate of the Ohio State University College of Medicine. She did her residency at Grant Hospital Medical Center, where she was chief resident. She is nationally recognized in the field of aesthetic medicine. Board certified plastic surgeons and dermatologists refer her patients based upon her expertise in the field. Dr. Mudd has studied with some of the most preeminent cosmetic doctors today:
Dr. Ben Treen, Surgical Dermatologist: Advanced study with SmartLipo and LaserLipo.
Dr. Brian Heil, Advance study with LaserLipo.
Dr. Jeff Kline, Advanced study with LaserLipo.
Dr. Jason Pozner, Advanced study in laser skin restoration.
Dr. Patrick Bitter, Advanced study in broad band light therapy with the doctor who invented the Fotofacial®.
Dr. Bruce Katz, Cellulite treatment with Cellulaze.
Dr. Lionel Bissoon, Advance cellulite study
Dr. Mudd continues to study with great physicians so that her patients can benefit from the most  advanced aesthetic medicine available. She is the first non-surgeon nationally to use Sciton ProLipo™ laser for LaserLipo, the first physician in Ohio to perform CoolSculpting®, the first physician to perform Ultherapy™ skin lifting in the state, the first to be trained in Central Ohio in dermal filler threadlift technique and the first in Central Ohio to be trained in Silhouette Instalift™ skin elevation and rejuvenation. She is a fellow of the American Society of Lasers in Medicine and Surgery where she has presented the study: "Evaluation of a Single Treatment of 1470nm/2940nm Hybrid Fractional Laser for Facial Rejuvenation".
Dr. Mudd's areas of aesthetic expertise include body contouring through non-invasive and minimally invasive procedures and skin elevation and rejuvenation. Some of the therapies used involve lasers for fat removal, skin rejuvenation, skin tightening, resurfacing, scar revision, hair removal and vein treats. Broad band light is used for skin discoloration, rosacea, and skin rejuvenation. Injectables such as Botox®, Juvederm® Voluma®, and Restylane are used for wrinkles and to restore volume. Silhouette Instalift™ is used to elevate and rejuvenate the skin mechanically.
Dr. Mudd is well-known as an expert speaker on non-surgical beauty medicine and has been frequently featured on television news stations Fox 28, WTVN 6, WBNS 10TV, WCMH4 as well as stations in Cleveland, Pittsburgh, and Toledo; and print media such as Columbus CEO, Columbus Monthly, The Columbus Dispatch, and Suburban News Publications. She also recently was featured on her own television show, "Beauty 411″.
A personal message from Dr. Mudd:
As a physician I've personally witnessed the anguish, hurt, and loss of self-confidence that women and men of all ages experience regarding doubts about their personal appearance. Finding effective responses to these concerns has been the driving force behind my work at the New You Center. With all the advances in aesthetic medicine you don't have to be genetically blessed or undergo surgery to get the skin and shape solutions that will bring out the best in you. My goal for you is that the most inspirational person you know will be the person who looks back at you from the mirror everyday!