The Fountain of Youth Treatment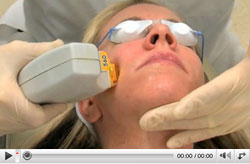 "This really is the closest thing we have to a fountain of youth for delaying skin aging." — Dr. Patrick Bitter Jr. on Broad Band Light Therapy
It used to be as your skin matured that age spots, sun damage, rosacea, moles, hyperpigmentation, broken blood vessels, and fine lines and wrinkles would just stand out more— the "mileage" you skin had accumulated over a lifetime—would dull your skin and date you. BBL changes all that!
Broad Band Light Therapy (BBL) Columbus OHHowever, with the pulsing power of Broad Band Light Therapy (BBL), we can literally erase skin spots, blemishes, broken blood vessels, rosacea, and redness without surgery or inconvenience. Trouble spots just dry up and fall off after treatment. BBL can be done during lunch time and any area of the body can be treated.
Click here to check out a short video that tells you all about BBL and how effective it is on sun damaged skin.
Study Results: Age 1 year in 8 by getting an annual BBL treatment
A study done by Dr. Patrick Bitter Jr., the inventor of the FotoFacial® and one of my friends and teachers shows that annual BBL therapy gives results that show only 1 year of age over an 8 year span of time. In the first blind BBL test Dr. Bitter's results as presented at the ASLM conference and before a Sciton Conference and reported in the Skin & Allergy News June 2012 took patients who:
Had no other laser treatments performed during the 8 year study.
Had no other cosmetic surgeries during the 8 year test.
Had no consistent skin care regimen.
Had received annual or biannual (depending on skin type) BBL therapy.
Trained physicians were shown before and after pictures of the patients who were then asked to guess the amount of time that had passed between them. The doctors doing the evaluations said that only one year had passed between the before and after pictures when in fact 8 years had passed! BBL (Broad Band Light) treatments, according to the Bitter study gave the following results:
Overall improvement in skin appearance.
Reduction in skin laxity; more firmness.
Reverses signs of skin aging, i.e., fewer spots, lines, sagging and visible sun damage.
Delays skin aging.
Provides the skin with an overall collagen boost.
May possibly protect skin from skin cancer.
BBL, quite simply, makes your skin cells behave like younger skin cells. (Sounds good to me!) You could even increase the results by combining BBL with Meso-Skin Rejuvenation.
If you are interested in learning more about what Broad Band Light Therapy can do for you, call 614-888-6833 today to schedule an appointment.
Broad Band Light Therapy (BBL) FAQs