Shedding Light on Fat Elimination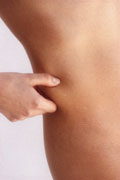 LaserLipo offers you a smart way to melt those stubborn fat pockets without melting your resolve. LaserLipo is the name of the procedure, so don't be confused if a physician uses the brand name of their laser as the name of the procedure. There are many lasers that can perform LaserLipo. LaserLipo is a great way to eliminate stubborn fat pockets, without the pain or inconvenience of traditional liposuction. It also has the advantage of tightening skin and allowing patients to return to their normal activities much more quickly.
Hear what LaserLipo is like from this short video
If you are interested in learning more about what LaserLipo can do for you, call 614-888-6833 today to schedule an appointment.