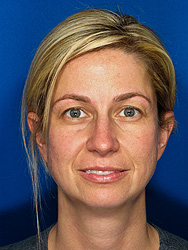 If you have deep facial wrinkles along the folds of the nose (smile lines or nasolabial folds), sunken eyes, loss of natural collagen, deep scars or thin lips, you can restore fullness and volume to these areas through the use of Juvéderm®, Restylane®, and Perlane®. These dermal fillers contain hyaluronic acid, a naturally occurring substance in your body. These fillers maintain their shape and provide lost fullness to skin areas by binding with your body's own moisture.
Although collagen was the initial facial filler and was once considered the state-of-the-art filler, it is no longer available since these other fillers work better and last longer. A flexible gel-like substance, hyaluronic acid dermal filler can flow when injected, giving a smooth look to the face, deep scars, or the lips rather than the stiffer, lumpy appearance that was associated with collagen. Dr. Mudd also prefers natural fillers to reduce the possibility of allergic reactions, which can cause red lumps under the skin. Whether combined with MicroLaserPeel™ and Botox® in a layered complementary approach to dramatically reduce the appearance of age-creating skin folds and deep skin scars, or used to enhance thin lips, the dermal filler allows you to maintain a natural look with minimal recovery, yet with immediate and lasting results.
Dr. Mudd was the first physician in Central Ohio and among the first in the state of Ohio to perform the non-surgical filler thread-lift, after learning this technique from the originator of this specialized technique. She also uses these fillers to perform the Liquid Facelift. Both of these special techniques can create immediate dramatic improvement without any downtime. Dermal filler patients love to leave the office looking 5-10 years younger!
If you are interested in learning more about what Dermal Fillers can do for you, call 614-888-6833 today to schedule an appointment.