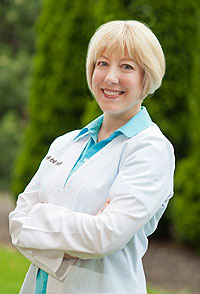 Mary Beth Mudd, M.D., founder of the New You Center for Non-Surgical Beauty Medicine, is a graduate of the Ohio State University College of Medicine. She did her residency at Grant Medical Center, where she was chief resident. She is board certified and a specialist in non-surgical beauty medicine. Dr. Mudd was the first physician in Ohio to study with Dr. Lionel Bissoon, who pioneered mesotherapy in the United States, and has completed advanced studies with Dr. Bissoon. She is Ohio's first physician to be board certified in mesotherapy. She is also the first non-surgeon nationally to use the Sciton ProLipo™ laser for LaserLipo, and is the first physician in Ohio to perform Ultherapy™ skin lifting and Zeltiq CoolSculpting®. She is the first physician in Central Ohio to be trained in the non-surgical dermal filler threadlift technique. She has studied with many renowned plastic surgeons, dermatologists, and cosmetic medical specialists in North America. She is a fellow of the American Society of Lasers in Medicine and Surgery.
Dr. Mudd's areas of aesthetic expertise include body contouring through non-invasive and minimally invasive procedures; mesotherapy for skin rejuvenation as well as for cellulite and fat reduction; use of lasers for fat removal, skin rejuvenation, tightening, and resurfacing as well as scar revision, hair removal, and vein treatments; BBL treatment of skin discoloration and rosacea; and the use of Botox® and fillers such as Juvéderm® and Restylane®.
Dr. Mudd is well-known as an expert speaker on non-surgical beauty medicine and has been frequently featured on television news stations Fox 28, WTVN 6, WBNS 10TV, WCMH4 as well as stations in Cleveland, Pittsburgh, and Toledo; and print media such as Columbus CEO, Columbus Monthly, The Columbus Dispatch, and Suburban News Publications. She also recently was featured on her own television show, "Beauty 411″.
A personal statement from Dr. Mudd's evolution into the Beauty Doctor™:
As a physician I've witnessed the diminished lives, anguish, hurt, and loss of self-confidence that women and men of all ages experience regarding doubts about their personal appearance. Finding effective responses to these concerns has been the driving force behind my becoming The Beauty Doctor™. Beauty isn't reserved just for those who are genetically blessed, or for those willing to undergo the knife. Non-surgical beauty medicine is a way for ordinary people to discover the extraordinary in themselves and live it, everyday. With just a little tender care, encouragement, and support, I've seen people blossom and grow to their full potential. My goal is that the most inspirational person you know will be the person who looks back at you from the mirror everyday."